There are over 100 million daily coffee drinkers in the United States and 54% of Americans over the age of 18 drink coffee everyday. Most make it from the home and most want to drink good coffee… and that's where coffee grinders come it.
If you want to make your coffee taste it's best you will purchase freshly roasted beans from a local coffee roastery and grind them yourself at home just prior to use. The better grinders however will always make better tasting so it's worth buying the best you can afford.
It is well known that burr grinders are better than blade grinders but most people also know just how expensive top of the line home grinders can get. The Baratza Encore for instance is an entry level premium machine in my opinion and it still costs more than most people want to spend… and that's why manual burr grinders are so great.
Many of the best quality manual grinders perform just as good as the more expensive electric models but they cost a fraction of the price. In years past there were few great options in this market however these days manual grinders have come along way in producing more consistent coarse grind coffee, which is perfect for the French Press.
In my home I use the Skerton Pro grinder which is a fancy version of the less expensive Skerton Plus. Either will do just fine as they both were designed and released for the specific purpose of making better coarse grind coffee.
Over the I have purchased a lot of different coffee grinders, both manual and electric, and I have found that only a few of them were good enough to use over and over again. I recommend most people looking for a manual grinder for french press to pick up one of those two Skerton models but there are a few others that are worth buying too which I'll talk about lower on this page.
Before I get to my reviews of all the best manual French press coffee grinders I want to first summarize them all in the following table.
I don't want you to waste your time or money on anything you won't like or use so please check out my full reviews of these hand powered grinders below. Hopefully they will help you find the perfect manual coffee grinder for your french press coffee – one that you'll use over and over for a long time to come.
Click here to jump straight to my reviews of these hand grinders and skip all the FAQs.
You can also see the best electric burr grinders for french press here.
As you know, it isn't only the quality of the coffee beans used that makes a good cup of coffee, it is also about the process of making it and the equipment used. Making coffee in a French press is a perfect example of this. People have tried to perfect the art over the years and it's become clear that the grinder you use to grind your coffee beans makes a big difference.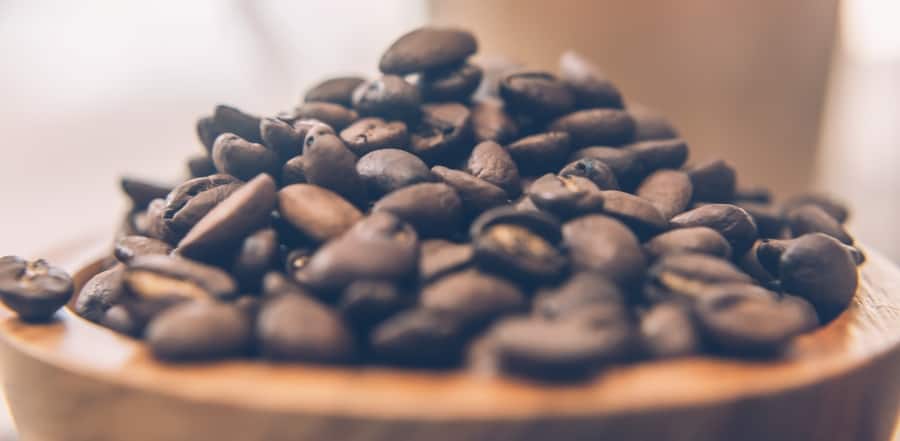 Of course, you could invest hundreds of dollars on a top of the line Rancilio Rocky, but let's face it, most of us don't have that kind of money to spend on our daily coffee addiction.
The next best thing is to get the best and most affordable manual grinder for French press coffee you can find.
Manual grinders are much more affordable than the electric ones and they can perform quite well… and because French press coffee only requires coarse grounds, it doesn't take very long to crank out your daily allotment.
Let's look at what makes some manual grinders better than others.
Does a Manual Grinder Make Good Coarse Ground Coffee?
French press coffee is one of the best tasting coffee brewing methods for a few main reasons: it is easy to brew without a fancy machine, you get all the oils into your cup, you get some body into your cup, you can fully control the brew time and temperature.
What makes it taste bad however is when you use grind that is either the wrong size or consistency regardless of bean freshness.
When you use pre-ground coffee the size is usually pretty consistent but it's the wrong size, it will under extract in a french press.
When you grind with a blade grinder or a poorly performing burr grinder then the sizes of the coffee grind particles will be different and the shapes will be different too resulting in some particles under extracting, other particles over extracting, and some particles getting pulverized into fines that are too small to be filtered out.
Most inexpensive burr grinders will make a lot of fines during the grinding process and a set of burrs that are not stable will result in different shapes and sizes in the final grind.
There is a reason why the best electric grinders cost into the thousands of dollars!
With manual grinders the cost can be a lot lower but for the engineering and manufacturing process to spit out a stable burr system that can be operated by hand efficiently the price still on the higher side.
Inexpensive best selling manual grinders like the JavaPresse or the KONA manual coffee grinder will never give you the grind size and shape consistency to get the best tasting cup of coffee possible… although they will be very friendly to your wallet.
Some French presses are better than others at removing fines from your coffee when you press. In fact I have an article dedicated to french presses that have the best filtration screens and systems here if you care to take a look.
Best selling Bodum French presses do just fine, and they are microwave safe, but if you want to minimize mud in the bottom of your cup then you need to use a better press and/or grind with a better grinder.
Before we get deeper into this article I'll say right now that of all the manual grinders out there I would advise almost everyone tocheck out the Hario Skerton Plus; it's the basic old-style Skerton with a burr stabilizer upgrade kit already installed.

This is a necessity for making coarse grind coffee. The Skerton Plus (or Pro) will get you extremely uniform coarse grind that will result in better coffee with less sediment in your cup for a fraction of the price of a top-of-the-line electric grinder or the even better manual Comandante C40 only available on Prima-Coffee.com.
With that out of the way let's review each of my selections one at a time.
What are the Best Manual Grinders For The French Press?
The following six models are the best coffee grinders for French press coffee. They are all affordable models but they are not cheaply made either. Their conical burrs are stable enough to produce consistent grind size with minimal dust produced. You can click on any of these links to jump straight to my review.
The Hario Skerton Plus
The Comandante C40 Hand Grinder
The Hario Skerton Pro
The Hario Mini Mill Pro
The Porlex JP-30 Stainless Steel Hand Crank Grinder
The Handground Precision Manual Ceramic Burr Coffee Mill
Editor's Note – If you buy any hand coffee grinder for French press prep you will need to fiddle around with the grind size adjustment to get the right grind size. Each of these devices allows you the freedom to choose size by turning a gear under the movable burr. Try a few different settings to find the size you are most comfortable with for your cafetiere and then just leave it there indefinitely.
---
The Skerton Plus by Hario is basically the old model Skerton repackaged with a pre-installed stabilizer plate for the movable burr on the coarse settings.
As we know the coarse settings are how we grind for the French press and without the stabilizer the burr would "wobble" resulting if different grind sizes and shapes getting through.
This grinder can process roughly 100 grams of coffee beans at once so it should be perfect for anyone wanting to make regular to small size batch of french press coffee.
I also like the non-skid rubber base which makes it easier to hold in place on a counter while grinding too.
---
Hand Grinding For French Press – How to Do it Right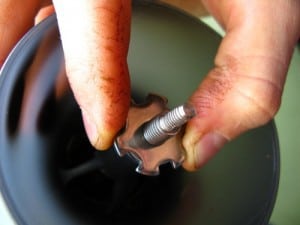 There are many ways of making coffee, all of which require different coarseness of coffee bean grind.
For example: when you use a drip coffee maker, you should be looking for a finer grind of coffee in comparison to that of a French press… furthermore, espresso machines require an even finer grind size than drip machines do.
On the flip side the coffee grind needs to be quite coarse for the French press so you need to make sure to set the movable burr on your grinder to the correct setting to get the best tasting coffee possible.
Each grinder has it's own slightly unique way of changing the grind size settings but they all are similar. Most use a stepped system where you start with the burrs in a closed position (set to zero) and then spin a dial that clicks with each step up. Figure out how many clicks from setting zero it takes to get coarse grind and then remember that setting for each subsequent time you add beans to the hopper for your morning cup of coffee.
Hand Grinding Lends Itself Nicely to Low Budgets
One of the least expensive options for grinding your beans is to put your beans in a bag and crush them with a hammer… that isn't really recommended though unless you are camping so the best alternatives are to use cheap blade grinders or better yet to use a good manual burr grinder like those featured above.
If you don't have time constraints in the morning, manually grinding your coffee beans is a great direction to go in if you are wanting to save some money.
In addition to saving money on electricity the best hand grinders cost as much as entry level electric burr grinders which aren't nearly as well made.
See this post for my reviews of some decent entry level electric burr grinders.
It is also cheaper to buy whole coffee beans than it is to buy them already ground. Not to mention that the other approaches to making coffee require more equipment that you need to buy.
For example – with drip coffee makers you need to buy paper filters or get washable gold filters among other possible things whereas the French press brewing method requires nothing extra to be purchased.
Also, the very manual nature of making French press coffee relates closely to the manual method of grinding coffee beans. In fact, lots of people that enjoy making coffee by hand through the press pot or by via pour-over also tend to like grinding by hand too.
Here are some reasons French pressing has become so popular as of late:
The naturally-present oil in the coffee is not absorbed by filters. This oil seems to give the cup of coffee a desirable creaminess and taste.
People like investing their time in the creation of their cup of coffee. It gives them a greater sense of satisfaction when they drink it.
It is cheaper and requires less parts to make the cup of coffee.
It is the purest form of coffee (classic) that captures the concentrated flavors with results such as these: deep, dark and full-flavored.
The French press, itself, is smaller in size and more attractive in a home than a coffee maker.
Drinking coffee using this method can be therapeutic.
You have control over the strength of the coffee.
A French press is easy to clean.
A French press can also be used in place of a tea infuser to brew loose tea.
Click here to read more on the differences between French press and drip coffee.
Are Manual Grinders Good for French Press?

Now that we have touched on French presses let's talk about manual grinders. Let's be clear about something. Manual grinders are not the best for French pressing coffee because they falter a bit in the coarse range. They are a lot better than the cheapest electric burr grinders, but pale in comparison to actual top of the line models.
Hario makes both the Mini Mill and the Skerton, which are among the best for coarse range grinding.
You can even pick up this super cheap upgrade kit for the Skerton. It's a special coarse grind attachment to help stabilize the burrs in coarse grinding situations. This can make your grounds more consistent and it's worth the small increase in total investment cost.
These two units, however, are top of the line manual grinders that use burrs instead of blades. These burs are ceramic, so they do not rust. Burs remain sharp longer than blades do, but when burs begin to lose their sharpness, they start crushing the beans more than grinding them, kind of like how using a food processor to grind coffee would do.
This is no good for French pressing coffee, as it produces dust.
Dust or finer grinds are not desirable for French pressing coffee as they leave "mud" at the bottom of your cup of coffee which may be unpleasant. That is why it is essential that you get the best tool for the job and make sure to keep that tool in good functioning order.
Are Hand Crank Coffee Grinders Hard To Use?

Manual grinders do take a little bit of elbow grease, but if you don't mind grinding your own coffee, you can produce coffee just as good as, if not better than, using an electric grinder priced two to three times as high.
You see, manual grinders don't heat beans up during the grinding process, which can have a small impact on the flavor. They are also known to be more durable than electric grinders, with less parts to worry about. The backbone for a good cup of coffee is also about the consistency of the coarseness of the grind and so getting better quality equipment will help you reach that goal.
The best coffee grinders are made to an incredibly high level of build quality. You just don't get that with the cheaper electric burr grinders, but with manual crank grinders the quality of materials can be much higher without inflating the price too much.
Cranking a manual grinder for French press will take the average person no more than a minute or two, because it will take far less turns that it would to hand crank espresso-size grind. Because the coarse grind is bigger, it takes less time to go through your beans.
The good hand crank grinders sit nicely on a table or counter while you hold them steady with one hand and crank the handle with the other. If you have problems with steady tension on your wrist, fingers, or elbow hand-crank coffee grinders may not be right for you but for the majority of people they will be just fine.
I personally have cranked grind for both French press and espresso, and let me tell you it is no fun doing espresso grind – it takes forever, but a coarse French press grind's size is not a problem. It doesn't take very long and I love that it's quiet compared to all the noise generated by even the best performing electrics.
---
Please follow us because we are loving this new way to reach our customers!
Gamble Bay Coffee
---